A Love for Trinity, A Love for Education and Missions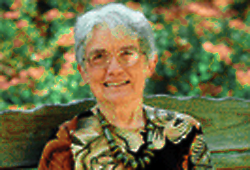 Growing up in Arizona near the Mexican border, Trinity Professor Emerita Dr. Lois McKinney Douglas knew she wanted to be a missionary. She spent ten years in Portugal and Northeast Brazil teaching in theological seminaries. After completing her doctorate, Lois returned to Brazil to serve a nationwide association of theological education by extension programs. Later she directed a theological education consulting service committee for two associations of U.S. mission agencies. In 1990, Lois joined Trinity's mission and evangelism faculty, where she helped to develop the Doctor of Philosophy Program in Intercultural Studies.
For several years, Lois thought about creating a scholarship fund. Now, through planned giving, while she maintains the use of her financial assets, Lois knows that at the end of her life, her savings will fund an ongoing scholarship for Brazilian teachers in seminaries and schools of mission who earn their PhD at Trinity. "I believe in what Trinity is doing very strongly," she says. "We have a good reputation in terms of what we can do both academically and holistically for our students. This scholarship allows me to wed my love for Trinity with my love for theological education and missions. It's great to be able to make an investment that will last beyond me."
For more information about planning a gift to Trinity please contact Ronald Tollerud at 847.317.8107 or visit our website at
www.trinitygiving.org
.