Gaining Income and Giving to Trinity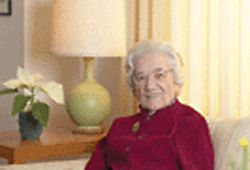 Sixteen years ago, Naomi Fausch decided to contribute to Trinity's endowment. She had been involved in education for many years as a teacher, administrator, and curriculum consultant, and she wanted to give directly to the education of those unable to afford school otherwise.
Because of her lifelong interest in missionary work, when Naomi decided to invest in Trinity, she endowed not only an ongoing scholarship fund but also a faculty chair in missions, currently held by Dr. Harold Netland. Most recently she has contributed to Trinity through planned giving.
Why did she choose to invest so much in Trinity? "At Trinity I find the type of people I believe we should be sending all over the world-adaptable, able, very committed to Christ and the great work we are called to do for his kingdom," she says.
Through planned giving, Naomi benefits in practical ways, gaining a regular source of income that will last for the rest of her life. She also enjoys ongoing relationships with the students who receive her scholarship. "I've grown personally through my interaction with Trinity. My life has been enriched."
For more information about the benefits of planned giving, contact Trinity's Director of Planned Giving Ronald L. Tollerud, CFRE, at 847.317.7003, 800.445.8337, ext. 7003, or email
[email protected]
.
You also may want to make it easy and convenient to have a bequest included in your will. The language below shows how a bequest can very easily be included in your will.
You might find it helpful to select the "print" button on the top of your screen and print this page. Please feel free to give this information to your attorney. If he or she has any questions, please have them contact Ron Tollerud at phone number 800-445-8337 x 7003 or email me at
[email protected]
.
For more information about planning a gift to Trinity please contact Ronald Tollerud at 847.317.8107 or visit our website at
www.trinitygiving.org
.