Gifts for Trinity, Inheritance for Children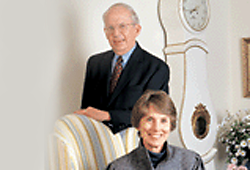 When Dr. Warren Anderson retired from twenty-three years as a specialist in anesthesiology and pain management, he enrolled at Trinity, completing a Master of Arts in Counseling Psychology in 1998. Several years ago, Warren and his wife, Greta, met with Trinity's director of planned giving for help in their estate planning. Their goals were to minimize estate taxes, to provide an inheritance for their children, and to leave a portion of their estate to Trinity.
"I can't stress enough how easy the process was," Warren says. "We feel that we made good decisions as a result of the counsel provided by the team at Trinity." One of the steps the couple took with a smaller portion of their funds was to invest in a deferred annuity. This instrument provides a fixed return of income at a later date, removes some of their funds from estate tax consideration, and benefits Trinity at the time of their home-going. "I think Trinity is potentially one of the most influential institutions in the world," Warren explains. "Our money will be an undesignated gift to Trinity so that, whatever the current needs are at the university at the time of our deaths, it will go to those needs."
For more information about planning a gift to Trinity please contact Ronald Tollerud at 847.317.8107 or visit our website at
www.trinitygiving.org
.