Professor Gives Back to University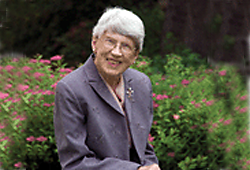 Violet Youngberg Morrow ('38) first heard of Trinity when she was a child growing up in Nebraska. In the 1930s, while living in Chicago, she decided spur-of-the-moment to enroll in Trinity's two-year Bible program. She did so well in the program that her professors encouraged her to stay for a third year of study.
After six years of ministry in the Appalachian Mountains of Kentucky, the completion of her bachelor's and master's degrees, and two years in Oregon, Violet returned to Trinity as a part-time faculty member. She taught Christian Education and Bible for six years before marrying Rush Morrow.
The couple was married for forty years before Rush went home to be with the Lord. Violet continues to invest her life in her church and also in Trinity, through charitable gift annuities. The gift annuities provide Violet with a steady income, benefiting her now and for the rest of her life, while making a difference in the lives of students at Trinity. "Investing in Trinity is better than other investments," she says, "because I'm investing in something permanent."
For more information about planning a gift to Trinity please contact Ronald Tollerud at 847.317.8107 or visit our website at
www.trinitygiving.org
.