Trinity Graduates Leave a Legacy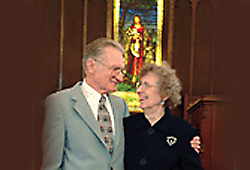 It was through their church that Bill and Rhoda Herda first developed a relationship with Trinity. Lyons Evangelical Free Church began as an evangelistic Sunday school in Lyons, Illinois, in the 1890s. From the 1920s to the 1950s the group was led by Rhoda's father. When he got older, the group began contacting various denominations about becoming a church. Meanwhile, Trinity students Ivan York (BA '60, MDiv '73, DMin '81) and Cliff Froisland (BA '57) had heard about the Sunday school and paid the group a visit. Rhoda remembers Ivan telling them, "I'll be your pastor, and you don't even need to pay me." With York's help, the church was officially founded in 1957, and all its pastors except one have been Trinity Evangelical Divinity School graduates. York is currently superintendent of the Northern Illinois Region of the Great Lakes District of the Evangelical Free Church.
The Herdas decided to give to Trinity Evangelical Divinity School because, they explain, "As the seminary goes, so the denomination goes. We think Trinity is very important. It should be supported and encouraged because it's vital in the world of Christianity these days. We want to make sure that the message of the gospel is guarded and spread, that the denomination, as well as other evangelical churches, stand firm."
For more information about planning a gift to Trinity please contact Ronald Tollerud at 847.317.8107 or visit our website at
www.trinitygiving.org
.