William and Diana Noller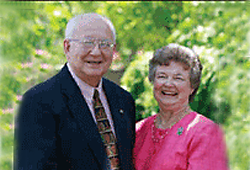 William (MDiv '59) and Diana Noller cultivate long-term connections: They have been married for fifty-two years For forty-six years, Bill has worked in Christian publishing, and for more than half a century they have been tied to Trinity.
Christian publishers around the world have often printed the Scriptures in their native languages without access to secondary materials that help people understand the Bible, such as maps, timelines, pictures, study notes, and charts. As the International Publishing Director at Tyndale and as a consultant since his retirement 2003, Bill has been providing expertise and access to these resources. Through the years, he has worked in forty countries and on projects in more than one hundred languages.
Bill is grateful for his time atTrinity. "From the very beginning, with the biblical and theological education I received, Trinity prepared me for a lifetime of service in Christian publishing. "Bill and Diana are planning to create a scholarship forTEDS students through the establishment of a charitable gift annuity.
"Trinity and the Free Church have reached out across the world, not just to Free Church students, but across the evangelical spectrum. We are interested in helping Trinity because they did so much for me. If we are able to encourage just a few students with financial assistance, we would like to do that."
For more information about planning a gift to Trinity please contact Ronald Tollerud at 847.317.8107 or visit our website at
www.trinitygiving.org
.